You use the left hand search pane to search for entries in the database, perform alphabetic lookups or action soft buttons.
Results are presented in the results pane on the right hand side.
Most results are shown as a list of matching entries from the database. Items marked by administrators as 'popular' are shown first. Remaining matches appear either:
Most recently changed first - these are most likely to be up-to-date; or
Alphabetically by item title.
You determine the sequence by your selection in the search pane:

Your browser will automatically remember your selection for the next session
Each item is listed like this...

The main text is the title of the matching entry. You can see the date the entry was last changed or reviewed as a sub-heading. In this case...

An alphabetic search matched an alternate index entry "Disabled". That's shown in the sub-heading in case you are unsure why this entry matches what you are looking for.
If you place your mouse over the title, it becomes bold indicating it is a clickable link. Clicking the title or the blue triangle (known as a twistie) shows all the detail we hold for the entry like this...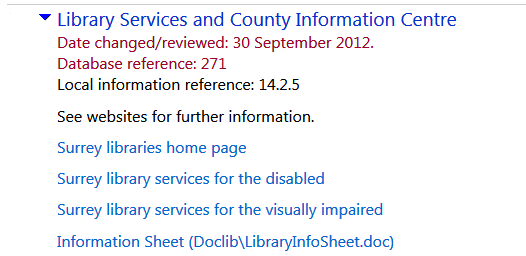 Note that the twistie is pointing down to indicate the entry has been expanded. Now the item is expanded you can see:
The two file references. The local information reference (if present) means there is more information available from the paper file under the reference shown. The database reference is a serial number allocated by the database software to each entry. It never changes so it is a useful way to provide a unique reference to a given entry. If you want to report a problem with an entry, make a note of the database reference; it will help the database administrator.
The main text of the entry. The database has the ability to hold a virtually unlimited amount of text for each entry.
Links to additional sources of information. In the above example there are two links to the Surrey libraries web site. The database system can carry links to both the web and to documents in the CAB local network. Again, if you put your mouse over a link it becomes bold indicating it is an active link. Clicking it will take you to the relevant web page or will show you the linked document.
Clicking the database reference number shows the clicked item in a page on its own, allowing you to print just that item or take a screen shot of it.
Clicking the title again collapses the item back to...

You can expand and collapse results until you find what you are looking for.
Some items might be marked as 'popular'. That's because they provide answers to many questions on a given subject. For example, a reference to a list of local doctors might be a popular match for "doctor". Popular items are shown before other items from the database and are marked with an icon like this:

Some items might be marked as 'Obscure'. Obscure items are not displayed in search results initially. If a search includes obscure items, you see an item at the end of the list telling you that one or more obscure items are available. Clicking this entry causes the obscure items to appear at the end of the list showing the following icon: